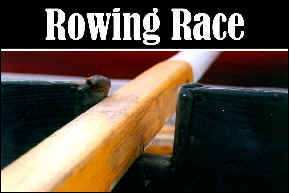 This contest is a rowing race over a straight course of approximately 2 nautical miles.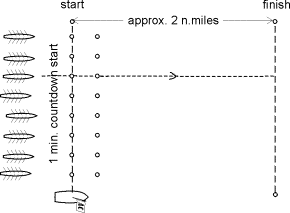 Course
This contest will take place over a course of approximately 2 miles set in Douarnenez Bay.
Special Rules
· Lifejackets must be on board, but the wearing of lifejackets is optional.
· All masts and sails must be on board.
· National ensigns must be flown during the race.
Start
· A starting lane will be allotted to each gig.
· The start line will have one lane marker for each boat as an aid to spacing the gigs evenly.
· Approx. 100m from the start line there will be another set of buoys as an aid to steering.
· Gigs should attempt to run over their lane markers.
·

The start will be a timed running start.
Scoring
This is a timed event. Teams will be ranked and points awarded by position.
Penalties
Boats starting more than 10 seconds early must return to the pre-start side of the line or be disqualified.
Boat starting early, but less than ten seconds early will be assessed a 1 minute penalty and may not restart.
3 minutes for infringement of racing rules.