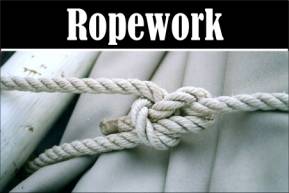 Crewmembers will demonstrate their ropework abilities by knowing the function and method of tying a selection of knots, whippings and splices.
The Challenge
Upon finishing the sack transfer gigs will return to the ACF docks where they will do their

ropework in the gigs.

10

members will be chosen by lot to execute the ropework from a team of 13 presented by
the
team as their ropework

crew.

Each crew member will receive one piece of rope marked with the

name of a knot, whipping or splice and will tie the knot or make the

whipping or splice.. When finished with

his or her rope work, the crewmember will display the ropework

to a jury member and explain its use.
The correct technique for each ropework task is detailed in the document Ropework 2002, which appears in the same CD as this event booklet. This document, and the criteria below will be the basis for the jury's judgement of well executed ropework.
Knots: must be tied properly, presented in correct shape, and the use of each knot known.
Whippings: must be tight with no overlapping turns. The length of the whipping must be equal to the diameter of the rope or slightly more. About 5 mm of the whipping line should be left before trimming, so that the whipping will not pull off.
Splices: There must be three tucks in a splice. Untapered splices are acceptable, but less points will be awarded. Tapered splices would be expected to have three tucks before reducing strands to form a taper, by removing 1/3 of the strand before making the tuck. Tucks must be made so that the cut strands are to the center of the splice thus making a clean, tidy splice with the lay of the rope in place and no stray strands protruding.
Ropework
The rope work to be demonstrated shall be selected by the jury from Ropework 2002
Scoring
Each knot, whipping, and splice shall be scored to a maximum of 10 points each.
5 knots, 3 whippings, and 2 splicings will be chosen for a total of 100 points
5 point maximum awarded for the correct execution
3 points for neatness
1 point for presentation
1 point for knowledge of use.