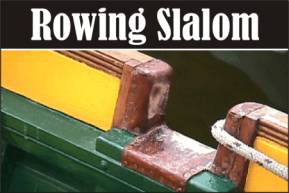 A boat handling contest around buoys without the use of a rudder.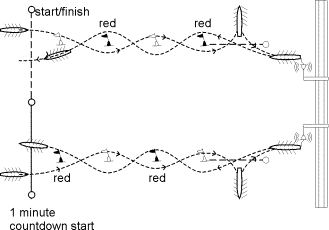 Course
A slalom course will be set out in two lanes. The green buoys shall be left to starboard and the red buoys to port.
Two yellow buoys are placed opposite to the starting line, where they, together with the last buoy, indicate the turning gate. The gigs must row through the gate, then reverse and back up blow the horn hanging from a buoy. All buoys must be rounded correctly.
Start
The start will be a timed 1-minute countdown running start.
Special Rules
· Boats that start early must return to the prestart side of the starting line to restart.
·

The rudder must be removed for this event and the gigs steered under rowing oars alone.
· National flags must be flown.
· No steering oar is permitted.
Scoring
This is a timed event. Teams will be ranked and points awarded by position.
Penalties
45 second penalty for each buoy touched.
45 second penalty for a bell not rung.
2 minute penalty for each buoy missed, or for not clearing the gate in the turning area.