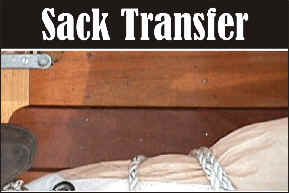 This contest consists of transferring a sack from a pier to a vessel, and then rowing it to a destination. Speed and care are prime concerns.
Course
The gigs will start in pairs. At the start signal, the crews (two gigs at a time) will row with all oars towards the pier to receive a sack. A detailed description of the procedure to be followed for this event is on the following pages. After the sack is aboard, the crew will unstep the mainmast, retrieve the line, weigh anchor and row to the finishing line.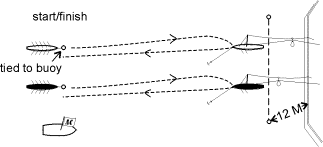 Special Rules
· All crew must wear life jackets.
· All masts and sails must be on board.
· The sack must not touch the water while being transferred.
· No part of the gig nor its equipment may cross the 10 M line (buoys are set a diagonal distance of 10M from the pier railing)
· Each nation shall make its own heaving line from rope and lead issued by the hosting nation.
The Start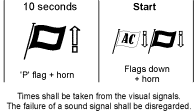 Clams will start first, then lobsters
Boats will hold themselves on the start line between two buoys with their forward four oars. When all boats have signaled they are ready, there will be a signal, followed by a starting signal 10 seconds later, at which all boats will bring out their remaining oars and cross the line.
Scoring
This is a timed event.
Teams will be ranked and points awarded by position.
Penalties
3 minutes for the sack touching the water.
3 minutes for crossing the 10 M line.
1 minute for not using correct knots - a penalty for each.