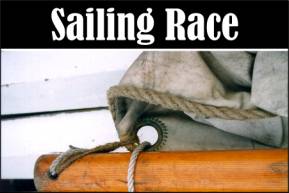 This is a speed race under sail on a triangular course. The short windward leg will test the crew's tacking ability.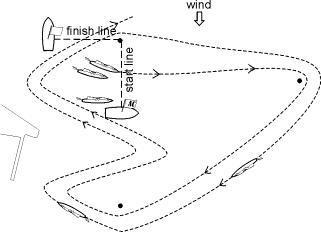 Course
Each fleet will have its own start. Three large buoys will mark the triangular course. The course will include two reaching legs and a short windward leg. The race will be twice around the course. Boats round the marks as shown in the diagram (diagram shows a starboard course). A green flag will signify a starboard course (all marks to be left to starboard) or a red flag will signify a port course (all marks to be left to port). The course will be set so that boats have room for tacking, but the location of the wharf will require most boats to tack at least three times on the windward leg.
Special Rules
· All crew must wear life jackets.
·

Before the 5 minute signal oars may be used to manoeuvre the gig.
· Sailing Rules and Atlantic Challenge rules will apply.
Start
The start will be a 10-minute timed start.
Clams will start first, then lobsters 15 minutes later
Scoring
In cases of collision between two boats(and especially port-starboard collisions), when the collision causes injury to crew or damage of any sort to a gig or her gear, the boats involved are required to report the accident, and the race committee is obligated to disqualify the vessel which does not have the right of way.
This is a timed Event. Teams will be ranked and points awarded by finishing position.
Penalties
1 minute for touching a turning mark.
3 minutes for failure to observe racing rules.
Disqualification if a buoy is not rounded.