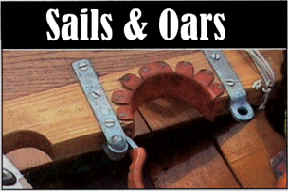 This contest will be twice around a triangular course, using either sails or oars, but not both.
Course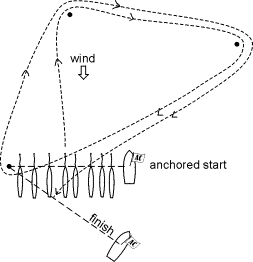 Three large buoys will mark the triangular course. Boats round the marks as shown in the diagram and cross the finish line from the direction of the last mark (diagram shows a starboard course). A green flag will signify a starboard course (all marks to be left to starboard) or a red flag will signify a port course (all marks to be left to port)
Special Rules
· All crew must wear life jackets.
· Masts may remain stepped on any leg.
· The mizzen sail may be flown at any time.
· The first and fourth legs of the race must be rowed and all others must be sailed.
· Sails and oars may only be used together when changing from sails to oars or oars to sails within two boat lengths of the mark.
· Sailing Rules, Rowing Rules and Atlantic Challenge rules will apply.

Start
Boats will be anchored bow into the wind on, or to leeward of, the starting line. Once all boats are in place, with all oars and mast stowed inside the boat, there will be a three-minute countdown. Boats must have their anchors stowed before reaching the first mark.
Scoring
This is a timed event. Teams will be ranked by finishing position and points awarded.
Penalties
1 minute for touching a turning mark.
3 minutes for failure to observe racing rules.
Disqualification if buoys are not rounded.